Moore, Anna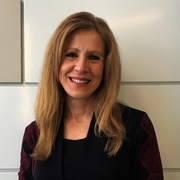 Department of Radiology and Physiology
Address:
775 Woodlot Dr., Rm. 3.111
East Lansing, MI 48823
(517) 355-4091
moorea57@msu.edu
Dr. Anna Moore has recently joined MSU as the Director of Precision Health Program and Assistant Dean at the College of Human Medicine after conducting research as a Professor of Radiology at Massachusetts General Hospital/Harvard Medical School for over 26 years. Her research is aimed at developing image-guided therapy for cancer and diabetes. Theranostic agents developed by Dr. Moore are capable of delivering drugs while monitoring the delivery by in vivo imaging. This provide a unique opportunity to observe accumulation of the therapeutic at the desired site (such as tumor). As targets of therapeutic intervention Dr. Moore chose non-coding RNAs (microRNAs), which have been implicated in progression of many diseases.
According to statistics, 90% of cancer patients die from metastasis and not primary tumors. Eradication of metastasis became Dr. Moore's goal and for this purpose she turned her attention to oncogenic microRNAs. During the course of her work, she along with her colleagues discovered an oncogenic microRNA responsible for survival of metastatic cells. This microRNA became the target of therapeutic intervention for metastatic breast cancer. The team created an image-guided theranostic nanodrug targeting this microRNA using inhibitory oligonucleotides. These oligonucleotides are delivered to metastatic cells using magnetic nanoparticles, which are detectable by magnetic resonance imaging (MRI). That way, we can obtain vital information about the delivery of these microRNA-targeting nanodrugs to the tumor site. Nanoparticle carriers for oligonucleotides serve a dual role as delivery vehicles and imaging reporters due to their innate magnetic properties. These studies resulted in complete eradication of established lymph node and lung metastases in mice with breast cancer. In addition, the results of this study demonstrated virtually complete prevention of lymph node metastasis formation in breast cancer and arrest of further metastatic dissemination.
Dr. Moore continues this direction of research and looking to identify new RNA targets in oncogenesis.
In addition to her research in oncology, Dr. Moore established the previously non-existent field of imaging and image-guided therapy of the diabetic pancreas. These studies include developing of beta-cell specific imaging agents, early detection of islet inflammation and siRNA theranostics for islet transplantation. Recently, Dr. Moore embarked on investigation of genetic and epigenetic factors that govern diabetes progression.
Key publications:
Cancer:
a. Medarova Z, Pham W, Farrar C, Petkova V, Moore A. In vivo imaging of siRNA delivery and silencing in tumors. Nat Med. 2007 Mar;13(3):372-7. PubMed PMID: 17322898.
b. Yigit MV, Ghosh SK, Kumar M, Petkova V, Kavishwar A, Moore A*, Medarova Z*. Context-dependent differences in miR-10b breast oncogenesis can be targeted for the prevention and arrest of lymph node metastasis. Oncogene. 2013 Mar 21;32(12):1530-8. PubMed PMID: 22580603; PubMed Central PMCID: PMC3721144.
c. Yoo B, Kavishwar A, Roos A, Wang P, Tabassum DP, Polyak K, Barteneva N, Petkova V, Pantazopoulos P, Tena A, Moore A*, Medarova Z*. Combining miR-10b-targeted nanotherapy with low-dose doxorubicin elicits durable regressions of metastatic breast cancer. Cancer Res. 2015 Oct 15;75(20):4407-4415. PubMed PMID: 26359455; PubMed Central PMCID: PMC4609288.
d. Yoo B, Kavishwar A, Wang P, Ross A, Pantazopoulos P, Dudley M, Moore A*, Medarova Z*: Therapy targeted to the metastatic niche is effective in a model of stage IV breast cancer. Sci Rep 2017;7:45060 PMID:28322342; PubMed Central PMCID:PMC5359550.
Diabetes:
a. Kavishwar A, Medarova Z, Moore A. Unique sphingomyelin patches are targets of a beta-cell-specific antibody. J Lipid Res. 2011 Sep;52(9):1660-71. PubMed PMID: 21747097; PubMed Central PMCID: PMC3151686.
b. Medarova Z, Greiner DL, Ifediba M, Dai G, Bolotin E, Castillo G, Bogdanov A, Kumar M, Moore A. Imaging the pancreatic vasculature in diabetes models. Diabetes Metab Res Rev. 2011 Nov;27(8):767-72. PubMed PMID: 22069257; PubMed Central PMCID: PMC3721374
c. Wang P, Yoo B, Yang J, Zhang X, Ross A, Pantazopoulos P, Dai G, Moore A. GLP-1R-targeting magnetic nanoparticles for pancreatic islet imaging. Diabetes. 2014 May;63(5):1465-74. PubMed PMID: 24458362; PubMed Central PMCID: PMC4178324.
d. Wang P, Yigit MV, Ran C, Ross A, Wei L, Dai G, Medarova Z, Moore A. A theranostic small interfering RNA nanoprobe protects pancreatic islet grafts from adoptively transferred immune rejection. Diabetes. 2012 Dec;61(12):3247-54. PubMed PMID: 22923469; PubMed Central PMCID: PMC3501867.
e. Wang P, Schuetz C, Vallabhajosyula P, Medarova Z, Tena A, Wei L, Yamada K, Deng S, Markmann JF, Sachs DH, Moore A. Monitoring of allogeneic islet grafts in nonhuman primates using MRI. Transplantation. 2015 Mar 24;PubMed PMID: 25806407